Soulja Boy has come unhinged again.
Just a week after it was reported he had been sued for threatening to kill a man, the 26-year-old rapper went on a Twitter rant making threatening to kill a rapper in Chicago.
In a series of now-deleted tweets, Soulja tweeted: "I got 100k cash right now who in Chicago wanna kill this Ni**a for me," and "He gon be dead before 2017. We sliding. I got 100k on his head."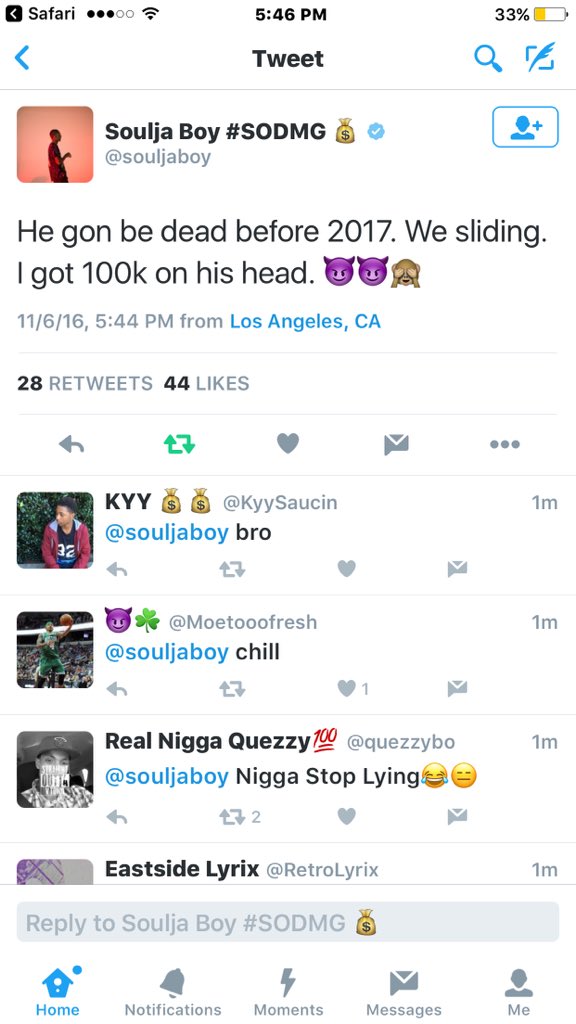 Soulja Boy ✔@souljaboy
I can start to be a very detached cold person once you start showing me why I can't fuck w/ you anymore.
He never mentioned anyone directly, but his mentions point to rapper Rico Recklezz, a friend of Lil Yachty (who Soulja's been beefing with).
Rico has responded…and this isn't looking good for either of them.
REALERTHANWORDZ2OUT @RICO_RECKLEZZ
FUK IT LETS BOX 1 ON 1 FOR 10K @souljaboy WE CAN YOUTUBE IT TMZ IT WATEVA WEN U READY ????

REALERTHANWORDZ2OUT @RICO_RECKLEZZ
My pull up gang so strong